Speed Test Logger ...uh... Loggger
Free and open-source download speed test logger for Windows
Automate your download speed tests and measure the reliability of your Internet service provider, Wifi or mobile network. Use this information to trouble-shoot intermittent connection problems. This open-source Windows application tests your download speed on a set interval and logs the test results to a CSV text file. The logger also monitors service interruptions (PC offline/online) and IP address changes.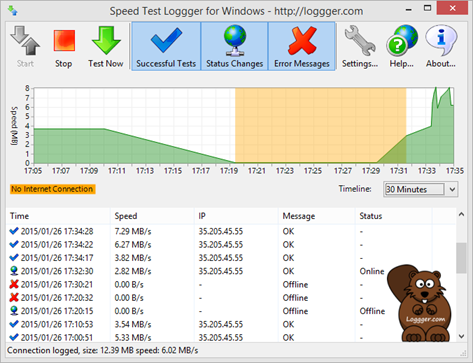 Here are your options:
Download the Speed Test Loggger (Only ~1.7 MB, runs on Windows 7, 8, 10 and so on...)
Read How to use the Speed Test Loggger (Blog)
Important:. Due to the bandwidth bill, we can no longer host test files on my server. So to use the app, click the wrench icon to open the settings dialog. There, in "Download URL" box, select the "Custom:" option. Replace the default "http://loggger.com/bigfile.zip" entry with the URL of an existing test file. And where do you find test files? => For example, if you google "download test file" you can find plenty of public files that you can use ;-)
Issues, ideas or questions? Open a ticket here or email team (at) a9t9.com
Are you a software developer and want to improve the project? Get the full source code at GitHub. One idea could be to add upload and ping speed tests.

© 2016 - 2018 Speed Test Loggger is a side project of the Kantu Web Automation Team.Try also our open-source Kantu Selenium IDE, the free Online OCR service and the Google Cloud Vision vs Microsoft Azure OCR software comparison wizard.